PLEASE SEND THIS ALERT ON TO ANYONE AND ANY LIST AS SOON AS POSSIBLE!


We have all watched and protested as eight dolphins were dragged into the inhumane sea pens at "FINS, Dolphin Learning Center" in La Paz, BCS, Mexico last year, and have been subjected to abuse and neglect ever since. "Luna" died soon after her capture because of the stress and trauma. We all wondered how the rest would survive the heat, abuse and conditions, but they have.


At long last, the government has acted and confiscated the dolphins, and we have waited cautiously for Mexican authorities to decide whether or not to allow these seven surviving La Paz dolphins to be rehabilitated and released.


But we also have been watching for tricks. While some officials want this release to happen we have now proved what you also may have suspected; other officials are planning to send the dolphins to other dolphinariums in Mexico!


Until we proved this we could not act without jeopardizing the release project. This is why we asked you to wait until now to writer your letters. The helpful Mexican politicians would have resented outside interference, and would not have acted without proof that a clandestine plan was underway to keep the dolphins in captivity.


Now we know. Now they know. Now WE must act.


If we all do not act NOW the La Paz dolphins will not be released, but relocated to captivity tanks!!!!


The dolphins were almost confiscated and released last year. That authorized release of the La Paz dolphins was in progress when it was stopped by the Governor of Baja. FINS also took a very sneaky legal action to stop any additional action by the federal goverment. After a long fight for the dolphins, Conservación de Mamíferos Marinos de México (COMARINO) filed a second and strong legal complaint in December against the "FINS, Dolphin Learning Center", for promoting Swim-With-The-Dolphins (SWTD) and Dolphin-Assisted-Therapy (DAT) programs without a permit from the Federal Goverment.


As a result of the legal actions by COMARINO, the Mexican authorities closed the facility on 6 March 2002, and confiscated the seven remaining dolphins.


This is an unprecedented action; for the first time the goverment has enforced the law to close a facility and confiscate the dolphins kept there.


On the day of the confiscation COMARINO offered help to rehabilitate and release the dolphins, as COMARINO had started to do a year ago, with the help of many experts. Since then the COMARINO rehabilitation and release team has been assembling resources, and plans have been submitted to the government.


While some officials support the release plan we have been watchful for other officials that have never changed their minds, demanding that these dolphins should spend the rest of their days in tanks for the enjoyment of people, and the profit. These officials are planning, for example, that CONVIMAR, the and worst captive industry in Mexico, will "adopt" some of the dolphins. Others are to be sent to Veracruz, in the Gulf of Mexico.


Veracruz is the biggest aquarium in the country but has never had a dolphin in captivity.


When dolphin captures were prohibited in Mexico on 10 January 2002 the La Paz dolphins became very valuable properties to be exploited, not released.


To keep them in tanks the industry has been providing the Mexican Goverment with false information. For example, they are saying that dolphin life span is better in captivity, and that rehabilitation is impossible for the La Paz dolphins.


Who are we are fighting for? The eight dolphins that were captured in Magdalena Bay in mid-December 2000, with their ages then:


1.- "Ricky", male, age 5 - 7 years
2.- "Nachito" , male, age 4 - 5 years
3.- "Capuchino" male, age 2 - 3 years
4.- "Aqua", female, age 10 years
5.- "Concha" female, age 15 - 17 years
6.- "Luna" female, age 8 years (Luna died in February 2001)
7.- "Quinta"female, age 12 - 15 years
8.- "Salcita", female, age 2 - 3 years


Please, write letters to the following Mexican government offices asking them NOT TO RELOCATE THE DOLPHINS to any other facilities, but instead to give them the opportunity to be REHABILITATED AND RELEASED in the very same area they were captured. Write your comments with respect. These Mexican officials are not the enemy. They have the authority to keep bad things from happening to the dolphins. They now have the facts to prove what is going on behind the scenes. They need to hear that the public is aware of what is happening, and is very concerned for the dolphins.


Please remind the officials how cruel the capture and transport was. Emphasize that the dolphins have only been in captivity for less than a year and a half - this makes them ideal release candidates! Make certain that they know that the plight of these dolphins will continue to be investigated by the international media.


> Very respectfully ask Dr. Victor Lichtinger, Secretary of Environment, not to condemn these seven dolphins to a life in prison, especially as a team is ready to make their release possible. Tell him that a successful release will do much to ease public concerns for the way these dolphins have been treated in Mexico. Ask him why Mexico's government would give up on these dolphins now, so soon after Mexico has made such positive and humane laws regarding dolphin captures.


> Explain to him that there are examples of successful releases with dolphins (especially those older than four years of age at capture) that have been in captivity even longer than the La Paz Seven, like Echo and Misha in Florida, Flipper in Brazil, and Bahama Mama in the Bahamas.


Remind him that these seven surviving dolphins deserve their freedom, and Mexico needs to be recognized for this positive action, rather than for not giving the dolphins any chance to be rehabilitated.


Tell him that you and many, many other concerned people are watching what happens.


Please send a FAX as well as an email to Dr. Lichtinger:
- DR. VICTOR LICHTINGER WAISMAN
Secretario del Medio Ambiente y Recursos Naturales
SEMARNAT
Fax: (52) 55.56-28-06-43, 44
E-mail: vlichtinger@semarnat.gob.mx


Although emails are far less effective we know that this is easier and cheaper than sending faxes, and that a sudden flood of them to all these other officials could have an influence. Send emails to:


- LIC. JOSE CAMPILLO GARCIA
Procurador del Medio Ambiente PROFEPA E-mail: jcampillo@correo.profepa.gob.mx


- LIC DIANA PONCE NAVA
Subprocuradora de Recursos Naturales
PROFEPA
E-MAIL: dponcenava@correo.profepa.gob.mx


- SOC. REGINA BARBA PIREZ
Coordinadora de Participación Social y Transparencia
SEMARNAT
E-mail: rbarba@semarnat.gob.mx


PRESIDENTE VICENTE FOX QUESADA
E-mail: vicentefox@presidencia.gob.mx


This alert is coordinated with a major political and media effort in Mexico. Act NOW to be a part of it. It is being posted on behalf of many organizations and individuals who have fought hard and long for FREEDOM FOR THE LA PAZ DOLPHINS. CSI is only the messenger here, in some cases for people who cannot be identified publicly. For more background on the captivity industry in Mexico see CSI'S WEBSITE for the Mexican Captivity Report in Spanish and English. An update for this October 2000 report has been delayed because of the La Paz campaign and others.


PLEASE SPREAD THE WORD!

---
LA PAZ DOLPHINARIUM SHUT DOWN!

June 2, 2001

PROFEPA closed La Paz Dolphinarium, in Baja California South, because Fisheries, Ecological Equilibrium and Wildlife laws violations, and put a fine by 10 thousands minimum wage (about US$101,000) and return seven dolphins to the sea.

Victor Martinez Escobar, Profepa Delegate, said after studied dolphinarium permits they give the order to Javier Aedo (company represent) for closing.  Law gives 15 days to the company for legal defense, one reason for closing was the terrible movement of the animals from the sea to the facilities. He said PROFEPA has also others denounces because cruelty and non authorized charges to the public.

---
THE PLIGHT OF THE LA PAZ DOLPHINS PUT HEAT ON MEXICO!

Source: The Toronto Star

May 30, 2001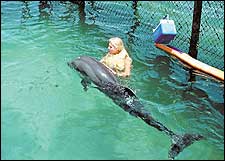 MEXICO CITY - After a flood of complaints from Canadians, Mexican authorities moved swiftly yesterday to close the La Paz dolphin centre and began negotiations for the release of seven captive animals. Last night, Environment Minister Victor Lichtinger was ``personally very, very worried´´ that the dolphins won´t survive much longer in "negligent" conditions in a shallow ocean pen.

"They can toast to death in the summer, and Dr. Lichtinger knows that. He really hopes we can negotiate their release very soon," said ministry biologist Silvia Manzanilla, who advises Lichtinger on marine mammals.

Yesterday's dramatic first step toward freeing the dolphins by the Environmental Enforcement Agency came two days after a Sunday Star report detailing the death of one dolphin, Luna, and the plight of seven surviving animals being kept in a primitive wire cage in La Paz, a tourist town on the Baja peninsula.

Manzanilla said the Mexican government has received "a tonne of mail" from concerned Canadians about the dolphins. Star readers, outraged over their abuse, offered to raise money, hold a benefit concert, and even fly to Mexico themselves to protest in front of the La Paz dolphin pens. Offers of help have flooded in from the United States, Germany, Austria and other parts of the world.

People want the dolphins released immediately, and Manzanilla, who took her Masters degree at the University of Guelph under the late marine mammal expert David Gaskin, said she can understand that. But Mexican law gives the owners of the La Paz "Dolphin Learning Centre" - or FINS - 30 days to appeal yesterday´s decision. An appeal could drag out proceedings for months.

That's why Lichtinger began immediate negotiations with the owners of FINS to get the animals out of the La Paz pens and back to their home waters in Magdalena Bay on the Pacific side of the Baja peninsula.

Yesterday's action essentially put the dolphin centre out of business: it can no longer conduct tours, or offer "swim-with-dolphin" programs, for which they were charging $90 a ticket.

The animals were captured in Magdalena Bay in late December and trucked across Baja under horrific conditions, destined for the dolphin swim program in La Paz.

"We want to do something fast. Now is the best time to release them, before the summer heat," said Manzanilla. "Ideally, that is what we want to see. It would be wonderful to see them released."

The coming hot weather could kill the dolphins held in shallow pens, where they can't dive to cooler depths. As well, hurricane season has begun and storm waves further imperil the captive animals.

In yesterday's announcement, the environment ministry noted the Mexican Marine Mammal Conservation Society, headed by Yolanda Alaniz, has offered to pay for the relocation, rehabilitation and release of the seven dolphins.

Alaniz, founder of Project Luna to free the dolphins, was pleased with Lichtinger's swift action. "I am very hopeful they will be released soon," she told The Star, adding President Vicente Fox´s new government "appears to be very sensitive to these kinds of issues. This statement gives me a lot of hope that the authorities will make an ethical decision on this."

She added that ``many important things have happened in the last few days. Important steps have been taken. "I think that very positive messages have been communicated, and it reflects a new conscience among the authorities." Alaniz noted that although government had stepped in, there is as yet no guarantee the dolphins will be returned to the sea.
p> "Of course, we hope the momentum will be sustained." Alaniz and U.S. wildlife consultant Richard O'Barry, who trained the original Flipper for the 1960s television series, have already raised money for Project Luna.

Their plan would be to move the dolphins - two males and five females - either by truck or helicopter from La Paz to Magdalena Bay, and release them after two to three weeks of rehabilitation.

The two oldest animals, Quinta and Concha - both badly wounded during their transport - remain resistant to training attempts and would require little rehabilitation time, O'Barry said.

Earlier this year, after news about the La Paz dolphin centre first broke in Mexico, Lichtinger ordered a moratorium on the capture of dolphins in Mexican waters, as well as a ban on new dolphin centres until a federal registry can be compiled.

Such programs, euphemistically called "swim-with-dolphins" are starting up all over Mexico. "They are a Pandora´s Box," said Manzanilla. ``They generate a great deal of money and we are very concerned about conditions. . . We hate to see them sprout up.´´

- SAMPLE LETTER -

SEND LETTERS TO:
  vlichtinger@semarnat.gob.mx
cc:jcampillo@correo.profepa.gob.mx
comarino@yahoo.com
gmckenna@interhop.net

Dear Environment Secretary Victor Lichtinger:

I am writing to you today to demand the immediate closure of the dolphin facility in La Paz, Mexico.  I also ask that the Mexican authorities release the remaining 7 dolphins into the care of Yolanda Alanis of the Mexican Marine Mammal Conservation Society for their rehabilitation and release back into their native waters.

  Until this happens, I will boycott all Mexican products and will cancel any future trips to Mexico. Thank you for your time.

Sincerely,

---
OUTRAGE IN MEXICO OVER THE TREATMENT OF DOLPHINS AND THE DEATH OF A DOLPHIN NAMED LUNA!

- March 29, 2001

- LUNA
Words cannot express the sorrow I see in this picture!

PAM'S NOTE: On February 22, a press release bulletin expressed the first result of the death of "LUNA", whose diagnostic cause of death is "Neurogenic shock" because of an obstruction of the first stomach chamber, including gastritis and ulcerations present in her digestive system and intestine occlusion.


Due to the bad handling and improper conditions at FINS, Dolphinarium in La Paz, Baja, California Big Sur, -- DOLPHINS ARE DYING! LUNA, the 8-year-old female died with horrible pain and traumatized by a brutal transportaton and doubtful veterinarian care.

---
Mexico - Death provokes call to ban swimming with dolphins. Swimming with dolphins, which is among the world's fastest-growing tourist activities, has become the target of animal rights campaigners after a dolphin died in Mexico. The plight of the dolphin, named Luna, has provoked a furious debate in Mexico and the government has banned any new "interactive" dolphin parks from opening and temporarily banned the capture of dolphins from Mexican waters.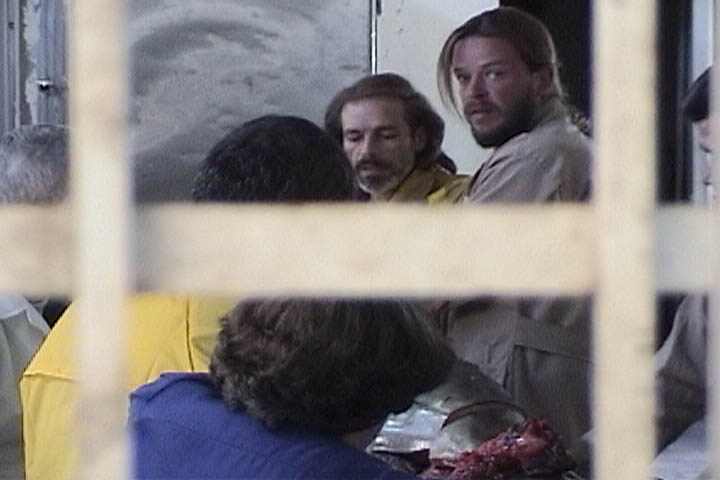 - TOTALLY DISTURBING!

Luna was taken from the Pacific Ocean off Baja California, on New Year's Eve. After just five weeks of swimming with tourists in a shallow pool at the La Paz Dolphin Learning Centre, she was found floating belly-up. An autopsy revealed extensive stomach ulcers.

Check out the website - "Free The La Paz Dolphins" and view their incredible and VERY DISTURBING VIDEO FOOTAGE and the abuse and capture and the unload of the dolphins into "FINS" La Paz. This video is devastating to watch. It shows trainer Javier A Sordo open one of the transport boxes with a hammer, the dolphin cringing at every blow. This is also a great information source of the plight of these dolphins!

---
HELP SAVE THE LA PAZ DOLPHINS!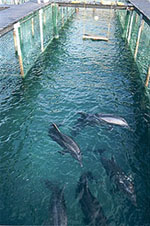 Seven dolphins are confined to a small wire fenced pen in La Paz. The pen gets very shallow at low tide.

- A LITTLE BIT OF HISTORY -

DOLPHIN LUNA DIES

Dolphin Luna died a miserable death in a small wire-fenced pen in La Paz, Mexico. The necopsy report report reveals Luna died from stress, shock and injuries. The remainig 7 dolphins have been taken over by the government and a coalition of international animal welfare organizations are calling for their immediate release.


In Decemer, 2000 eight dolphins were captured in the Pacific Ocean in Magdalalena Bay. Dolphin Learning Center is located at the La Concha Hotel in La Paz. The center wil be used in a dolphin swim progran for tourists.

---
The Mexican captivity issue is changing quickly. The government is hesitating and may go back on its word or statements, particularly in La Paz.

We need to get the facts out. I've just confirmed that few if any CFN groups have links to the Mexican Captivity Report. It wasn't referenced in the front page story in the Washington Post yesterday either.
Visiors have visited the pen have said that it was one of the worst captive dolphin facilities they've ever seen. Sources tell us that the pod the dolphins were taken from was subjeced to four different capture attempts. An adult female named Luna survived a month and three day. She died Feb. 8.

This report has changed the minds of everyone who has read it, and it deserves circulation.

PLEASE POST AT LEAST ONE ADDRESS TO YOUR WEBSITE.
Please help to circulate this as widely as possible.
Below are the three web addresses. If you chose only one please make the English version of the full report.
http://elfi.com/csimexcapen.pdf

This is the full English version, with photos. http://elfi.com/csimexcapsp.pdf
This is the same, but in Spanish http://elfi.com/dsimexice.html">

---