UPDATED - MARCH 22, 2001

HELP SAVE THE LA PAZ DOLPHINS!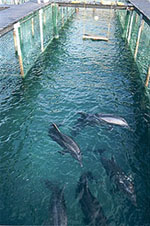 Seven dolphins are confined to a small wire fenced pen in La Paz. The pen gets very shallow at low tide.

- A LITTLE BIT OF HISTORY -

DOLPHIN LUNA DIES

Dolphin Luna died a miserable death in a small wire-fenced pen in La Paz, Mexico. The necopsy report report reveals Luna died from stress, shock and injuries. The remainig 7 dolphins have been taken over by the government and a coalition of international animal welfare organizations are calling for their immediate release.


In Decemer, 2000 eight dolphins were captured in the Pacific Ocean in Magdalalena Bay. Dolphin Learning Center is located at the La Concha Hotel in La Paz. The center wil be used in a dolphin swim progran for tourists.

---
The Mexican captivity issue is changing quickly. The government is hesitating and may go back on its word or statements, particularly in La Paz.

We need to get the facts out. I've just confirmed that few if any CFN groups have links to the Mexican Captivity Report. It wasn't referenced in the front page story in the Washington Post yesterday either.
Visiors have visited the pen have said that it was one of the worst captive dolphin facilities they've ever seen. Sources tell us that the pod the dolphins were taken from was subjeced to four different capture attempts. An adult female named Luna survived a month and three day. She died Feb. 8.

This report has changed the minds of everyone who has read it, and it deserves circulation.

PLEASE POST AT LEAST ONE ADDRESS TO YOUR WEBSITE.
Please help to circulate this as widely as possible.
Below are the three web addresses. If you chose only one please make the English version of the full report.
http://elfi.com/csimexcapen.pdf

This is the full English version, with photos. http://elfi.com/csimexcapsp.pdf
This is the same, but in Spanish http://elfi.com/dsimexice.html">

---