Puget Sound People Would Like To See Lolita Go Free!

By: CHRISTOPHER DUNAGAN

- August 08, 2000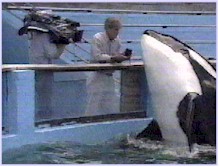 Lolita Hearing The Sounds Of Her Family That Are Still In The Washington Waters

PUGET SOUND, Wash. - The return of Keiko to the wilds of Iceland has inspired a new push for Lolita, a killer whale that once roamed free in Puget Sound.

Lolita, captured 30 years ago near Whidbey Island, lives alone in a small tank at Miami's Seaquarium. The female orca, estimated at 36 years old, is still considered part of the close-knit family of whales that visited Dyes Inlet for a month in 1997.

"Everybody is watching Keiko to see what happens," said Secretary of State Ralph Munro, who grew up on Bainbridge Island and later helped end orca captures in Puget Sound.

"I don't think anybody dreamed that we would get this far with Keiko," he said. "A success there would be important to the future of Lolita." Keiko, the whale that starred in the movie "Free Willy," has been roaming free, accompanied by boat, in his home waters near Iceland. His rehabilitation and retraining began four years ago in Newport, Ore., after the whale was donated to the Free Willy Keiko Foundation by the Mexican amusement park that held him.

Lolita, the oldest orca in captivity, is the only surviving whale to be taken from Puget Sound, said Howard Garrett of Orca Conservancy. She has lived in Miami since 1970. That aquarium has shown no interest in releasing her.

About 45 Puget Sound whales were caught in the 1960s and early '70s and delivered for display at marine parks throughout the country. At least 13 others died during capture.

Munro was an aide to then-Gov. Dan Evans in 1975 when he inadvertently came upon an orca capture in southern Puget Sound. "We were out sailing that day," Munro said. "We didn't even know there were whales in the area." He and his wife, Karen, were shocked at the sight of the capture. "They were using power boats and throwing explosives off the bow to get the whales to swim into a little area where they could net them," Karen Munro said. "Some whales were inside the net and some were outside," she said. "Mothers and babies were crying back and forth. It was brutal, and the most sickening sight you can imagine."

By then, Lolita had been in captivity for five years, but seeing a capture in person galvanized the Munros. They told the story to Mike Layton of the Seattle Post-Intelligencer, whose story kindled public sentiment.

With the help of Evans and then-Attorney General Slade Gorton, a lawsuit by the state brought an end to orca captures. Now, 25 years later, the orcas of Puget Sound are going through another sudden decline in population - from 98 to 81 animals in five years. Toxic chemicals, low runs of salmon and stress from whale-watching could be part of the problem, experts say. Freeing Lolita is now much more than a sentimental notion, Ralph Munro said.

"Lolita is extremely valuable for what scientists could learn from her," he said. "We really don't know much about these whales." Munro, along with former Gov. Mike Lowry and researcher Ken Balcomb, have written to Seaquarium, but the owner shows no interest in discussing a release.

Garrett and Orca Conservancy have proposed replacing the Lolita exhibit in Miami with a high-tech marine mammal exhibit, including IMAX films, virtual reality experiences, robotic whales and live video feeds from remote locations.

If put back into the wild, Lolita might have a normal life expectancy and even bear a calf or two, Garrett said. Female orcas are known to live into their 50s and beyond.

A possible listing of the Puget Sound whales as endangered species could change Lolita's legal status, Munro said. "I don't think the public or Congress is quite there yet," he said, "but if these animals go on the Endangered Species List, this issue could move to the forefront."

"This whale has done her time," Karen Munro said. "She has entertained people over the years, and she deserves to come home." Lolita is a "license to print money" at an aging aquarium, said Ralph Munro, but a deal may be possible.

"My big fear," he said, "is that she'll die at the aquarium, and we'll hear about it three days later."

For More Info On Lolita Visit:

---