WE MUST STOP CHASING THE ORCAS!!

THE WHALES ARE DYING!!

Seattle PI - August 10

By: MARK ANDERSON - Whale Museum Co-Founder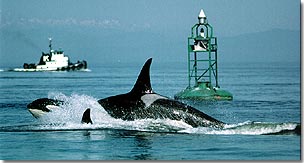 Photo From Center For Whale Research

   In the last few years, we have lost about one-fifth of our local orca population. This last winter, in the first-ever sighting of our local whales south of the Columbia River, K and L pods traveled at least as far south as Monterey.

At a time when many local residents and business owners appear unaware that there is a problem, local scientists are already labeling these orca "goners." Perhaps you, too, were unaware that the southern resident orca population, already labeled "threatened" by Canadian authorities, is in complete crisis. Marked by a large and increasing death rate, first-ever prey switching, increasingly erratic feeding behaviors and, quite often, "wasting" before death, it appears that our local whale population is in mid-collapse.

There are no other symptoms of this that one would expect to see than those we are now seeing. Biologists throughout the Northwest universally agree that, like a stool with three legs, the whales are being stressed in three ways: a sharp decline in salmon stocks, pollutants and boat interactions.

Some local scientists think it is already too late to save these whales. Personally, I take the somewhat more optimistic view that we might have two or three years. We might call this a window of time we have to prevent this catastrophe; unfortunately, during that period we will not be able to appreciably change salmon or pollution levels -- extremely worthy enterprises that will take decades. What we can do, working together, in weeks or months, is to greatly reduce the third source of stress, caused by boats.

As recently as, say, seven years ago, there was no commercial whale-watching activity; even private whale boat activity was low. Today we have the world's largest commercial whale-watching fleet, which is commonly outnumbered by private craft. It is not unusual to have over a hundred boats on the whales on a summer holiday weekend.

Whether by coincidence or cause, this popularity has come in tandem with the "Free Willy" movie series. To the degree that boat stress is contributing to the whales' demise, these movies might have better been named, "Kill Willy." In a very real sense, the whales are being loved to death.

Imagine the impact on business -- on all of us -- if the orca disappeared.

For the last few years, the whale-watching industry and the Whale Museum's Soundwatch program have worked hard to self-regulate this problem, producing better results than federal laws. Unfortunately, this is exactly the period of time of the population's collapse: Their best efforts are not enough.

Three years ago, in a meeting of all local whale researchers and watchers, I suggested we might be seeing the first indications of a population crisis. Little was done then: Now it's our last chance to act. For that reason, the non-profit Orca Relief is circulating a petition to the San Juan County commissioners, urging them to make the chasing of whales -- defined as "serially moving a boat in order to maintain contact" -- illegal. This is an approach that would allow a new (and enforceable) kind of whale watching, while just possibly assuring there will be whales left to watch.

I would urge you to get a copy, at www.orcarelief.org and sign it.

Mark Anderson, president of Technology Alliance Partners, is executive director of Orca Relief Citizens' Alliance.

---