Canadian Businessman At The Center

Of Horrific Dolphin Capture In The Solomon Islands

August 5, 2003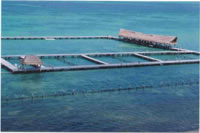 Solomon Islands Seapen
Where Dolphins Living In
Horrific Conditions

Canadian businessman, Christopher Porter, is reported to be at the centre of the largest ever recorded dolphin capture for the marine park industry. A national Canadian newspaper has reported that Porter went to the Solomon Islands under the pretence of educating fishermen about unnecessary killing of dolphins and to create a resort to boost tourism. No resort has been created, only six dolphins pens which are filled to the brim with captive dolphins destined to be sold to marine parks worldwide.

The Solomon Islands have been in a state of upheaval since a civil war in 1999-2000, leaving them vulnerable to foreign business groups with their sites set on acquiring it's natural resources. Recent reports indicate Australia and New Zealand are sending in troops to try to restore order to the tiny state.

As many as 200 dolphins were captured by villagers who were paid a fee of $260 USD per dolphin. The market value for dolphins used in the entertainment field is reported to be in the range of $25,000 - $30,000 USD, making this a lucrative business for the greedy. Reports indicate that buyers are coming to the Solomons from Mexico, Japan, Thailand, Taiwan and Italy to arrange the purchase of dolphins for marine parks in those countries.

There have been no reports to date that any of the animals are destined for Canada. Wild caught dolphins have been brought into Canada as recently as 2001 when Marineland of Canada imported threatened black sea dolphins from Russia.

The Solomon Island dolphins were rounded up and caught in crude fishing nets, dragged out of the water onto open boats and then transported on board the boats for 2 1/2 hours to Gela. The dolphins are currently being held in shallow (3' deep) sea pens and are heavily guarded by armed militia. TV crews who have tried to film the captive dolphins have been assaulted. At least 4 dolphins have died in the pens; there is no way of estimating how many died during the capture process.

According to Julie Woodyer, Marine Mammal Campaign Coordinator for Zoocheck Canada, a national wildlife protection charity with a special interest in the protection of whales and dolphins, "This is the largest and one of the cruelest dolphin captures for the marine park industry ever. A capture of this size is not only disruptive to the wild population of animals in that area, it could potentially damage their gene pool forever."

At least 28 dolphins have already been transported to Mexico under a CITES permit that was negotiated at the beginning of July. While Mexico only allows "humane" imports, they claim they have no hard proof that the capture was not humane.

Woodyer goes on to say, "One of our colleagues who is on site in Mexico has reported that at least 2 of the 28 dolphins have died and the remaining animals are lethargic and appear to be in poor condition."

Zoocheck Canada is calling for Canadians to contact the Mexican Embassy in Ottawa to make your feelings on this matter known and to encourage Mexican authorities not to authorize any further permits for the importation of dolphins. It is also essential to contact Solomon Island & Australian authorities to encourage them to release the remaining dolphins immediately, before it is too late.

For further information contact: Julie Woodyer, Zoocheck Canada (416) 285-1744.


Mexican Embassy in Canada
45 O'Connor, Suite 1500
Ottawa, Ontario K1P 1A4
Tel: (613) 233-8988
Fax: (613) 235-9123


Mexican Embassy in the United States
Juan Josť Bremer de Martino, Ambassador
1911 Pennsylvania Ave. NW
Washington, DC 20006
Tel: (202) 728-1600
Fax: (202) 728-1698
E-mail: mexembusa@aol.com

Honorable Nelson Kile
Ministry of Fisheries and Marine Resources
P.O. Box G13
Honiara Solomon Islands
Telephone: (+677) 39143 or (+677) 30107
Facsimile: (+677) 38730
Email: sbfish@ffa.int

Honorable David Holosivi
Ministry of Forestry, Environment and Conservation
P.O. Box G24
Honiara Solomon Islands
Telephone: (+677) 25848 or (+677) 22453
Facsimile: (+677) 22825
Email:

Minister for Foreign Affairs, Australia
The Hon. Alexander Downer
Fax No: 61 262734112
Phone: 61 262777500


High Commissioner for Australia
Hon. Bob Davis
Fax No: 677 23691
Phones: 67721561, 67721562, 6772156

---