Stormy Dies At Mystic Aquarium

Source: CFN News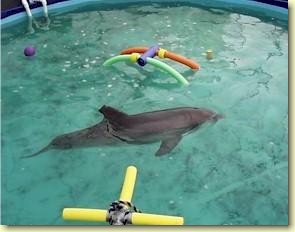 Stormy At Mystic Aquarium

MYSTIC, Connecticut (Reuters) -- Stormy, the hard-luck baby dolphin who survived a 1998 shark attack and became the subject of a children's book, has died after a short illness, officials at Mystic Aquarium said Wednesday.

The 4-year-old Atlantic bottlenose dolphin male began acting strangely over the weekend and stopped eating Monday, said Deb Adamson, spokeswoman for the Mystic Aquarium in Mystic, Connecticut.

The mammal, whose unusual story of survival spawned a Web site that drew e-mails from around the world, died Tuesday, Adamson said. "The staff is really devastated by this loss, because Stormy had a special place in our hearts, and the visitors had grown attached to him through all the notoriety," said Adamson, who published a children's book about the dolphin in April 2000.

"Since Stormy arrived here (in March 1999), he battled a variety of different illnesses related to his stranding," Adamson said. "He's never been 100 percent (healthy)." "Stranded animals never really recover from their stranding, and Stormy had it even worse, attacked as brutally as he was by that shark," she said.

After being separated from his mother and attacked by a shark, Stormy was found half-dead on a beach in Port Aransas, Texas, on Sept. 16, 1998. He was nursed back to health at the Texas Marine Mammal Stranding Network in Galveston, Texas, before being sent to his eventual home in Mystic.

Stormy's saga was considered remarkable because only 5 percent of all whales and dolphins that wash ashore survive, Adamson said. Stormy was one of the top attractions of the aquarium, which attracts about 900,000 visitors a year.


---