"TANOUK" DIES AT JAPANESE AQUARIUM!

- Source: WDCS

- October 31, 2000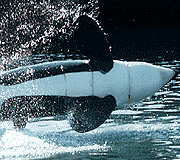 "Tanouk" During His Cruel Capture.

WDCS is sad to announce the death of another captive orca. The latest victim, a male, known as "Yamato" died at the Izu Mito Sea Paradise aquarium in Japan on October 24th 2000. Yamato was captured in October 1989 from Iceland and spent six years at Marineland Antibes in France before being transferred to Izu Mito in November 1995.

At Marineland, Yamato was known as "Tanouk" and his story is a sad one. Even before he left France, he was separated from the other Marineland orcas due to physical and mental health problems. Details of his transfer to Japan describe the terrible conditions he was transported in which, on arrival, demonstrated several wounds on his abdomen and dorsal fin. Yamato's death leaves a solitary orca at Izu Mito aquarium. Asuka, a female, was captured at Taiji in February 1997.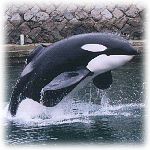 - Tanouk

Yamato is the fourth captive orca to die this year. In March, two female orcas died: "Malik", a three-year-old captive-born orca, died at Marineland, Canada and "Ruka", captured from Iceland in 1981 died at Nanki Shirahama Aventure World in Japan. In August, "Vigga", captured in Iceland in 1980, died at Six Flags Marine World in the USA.

Yamato's death leaves a total of 47 orcas held in captivity around the world. Three other Japanese aquaria hold orcas: Kamogawa Sea World, Nanki Shirahama Adventure World and the Taiji Whale Museum. Since 1972, Japan has taken a total of 19 orcas into captivity in its marine parks.

Of 64 known captures of orcas off Iceland, 37 of these animals have died in captivity, nine were released and only 18 survive today. At least 134 orcas have been taken into captivity from the wild since 1961. 107 of these are now dead. The average survival time in captivity for these 107 animals was under six years. In the wild, female orca lifespan can reach 80 or more years. Male lifespan is shorter, generally a maximum of 50-60 years.

---