It is impossible to meet the physical, psychological and social needs of whales and dolphins in captivity. Further, keeping these animals fails to fulfill a legitimate conservation-education role.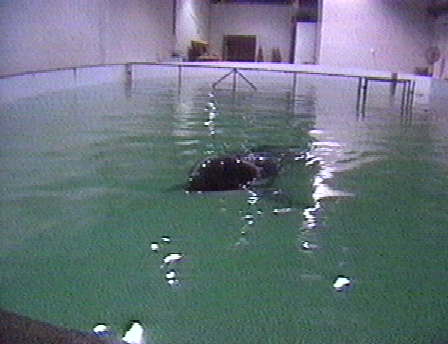 "JUNIOR" was an Icelandic male Orca who existed in a tiny warehouse at Marineland. He lived in virtual isolation being cut off from the outside, air ,sunlight and companionship. Junior was forced to endure the noise of the overhead fans. Junior was apparently for sale but without a buyer. Marineland was reluctant to admit to his existence although he was filmed in the indoor warehouse pool on atleast two occasions.

Marineland, a privately owned Canadian facility has public shows, but for some reason no one knew of Junior because inventory, health and mortality facts are not required to be available to the public. Many orcas captured in Icelandic waters have been stored at Marineland to be resold, and it also helps expand their captive breeding program.

Orcas that fail to adapt to captive conditions are punished and sometimes kept in a "back-pen" until the marine park can find a suitable buyer. When Junior finally died he was of course alone and was reportedly lethargic and psychotic in the summer of 1994 at the age of or around 13. I mourn the loss of Juniors life and the others who have died at Marineland...Let us to help them seek justice!..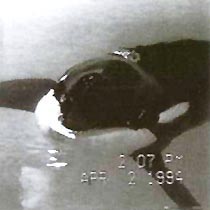 - JUNIOR