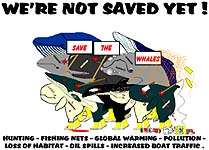 Image Courtesy Of Mike
AKA MIKE & WINSTON.

Please take a moment and sign these petitions! We can all make a difference! If there is a petition that you would like me to add to this page - just let me know! THANKS!

Petition
regarding oil spills in Alaska's pristine waters.

Petition
for inquiry to the orca deaths at Marineland.

Petition
to stop dolphin imports and transfers in Mexico.


Send and online e-mail

to protect Gray Whales from offshore drilling in the Pacific.

Petition
to stop slaughtering seals in Canada.

Online petition
to put a stop to "Dolphin Discovery" at Six Flags.

Help Return Luna To Her Home Waters!


Petition Presented To The National Assembly Of Quebec For The Adoption Of An Anti-Delphinarium Law.


Stop The Japanese Whale Slaughter!


Help To Save Iris The DYING Dolphin!


Save The Whales From Navy Sonar Deployment!


Help Save The Dolphins At Manati Park Bavaro - Dominican Republic!


Support The Endangered Species Act!


Greenpeace Online Whale Sanctuary Petition


Oppose Oil Drilling In The Arctic National Wildlife Refuge!


Lolita, Miami Seaquarium's Orca Needs A New Home!


Establish A Global Ban On Shark Finning!


Stop The Dolphinarium At Granby Park!


Stop The Bushmeat Trade/End Hunting Of Primates!


Stop Shark Finning In The Galapagos!


Stop Whaling By Japan And Norway!


No Oil Drilling In The Alaskan Wildlife Refuge!


---